What a beautiful dawn and sunrise this morning, viewed from the 8th floor of St. James' Church, Taichung!  The start of a day of gorgeous weather!
One of the great traditions of Chinese New Year is catching up with old friends, often those not seen for a whole year or even longer.  I've been riding around Taichung on a u-bike all week doing this – and today was special, because I visited Fr. Toon Maes, CICM, at St. Paul's RC Church, Taichung, where he is enjoying the sun after all those cold, wet and windy years up near us on the northern coast in Jinshan!  He's 86, and in charge of a church which has about 120 people in the mass on Sunday.  His church is beautifully decorated for Chinese New Year…
On Tuesday I visited another RC priest friend, Fr. Joy, MM, based at Tanzi Migrant Church, just north of Taichung and working with the Filipino migrant workers, who are mostly employed in the nearby export processing zone.   He has a huge church of thousands, and lots of outreach and social programmes….
In case you're wondering, both Fr. Joy and Fr. Maes did actually hold small Ash Wednesday services yesterday.   But in fact, Joy told me that Lent has been postponed in the local RC Churches, due to Chinese New Year coming this week.  After all, it's really quite extraordinary to have Ash Wednesday – all that fasting and ashes – one day, followed the next day (tonight, Chinese New Year's Eve) by the biggest family feast of the whole year!  So I think it really makes good sense to delay Lent for a week.  Not just delay Ash Wednesday, but actually Lent itself.   I know it's supposed to be 40 days, but hey, a few less really won't make much difference.  Otherwise people won't know whether they're supposed to be piously fasting, thus annoying all their family or friends by not participating in the New Year celebrations, or the alternative – eat, drink and be merry and then feel guilty afterwards! And we really don't need any more guilt in this world and in the church, in my humble view at least.  In the Taiwan Episcopal Church, it's been left to individual churches to decide, and in St. James, the church council decided not to hold a service – as everyone was so busy getting ready and travelling.
And of course, having no Ash Wednesday left us all free to focus on Valentine's Day instead ~ and in connection with Valentine's Day, you must read this BBC News report about how some of Taiwan's little green traffic light men down in Pingtung have got girlfriends in time for February 14….
Taiwan's pedestrian crossing men get girlfriends – BBC News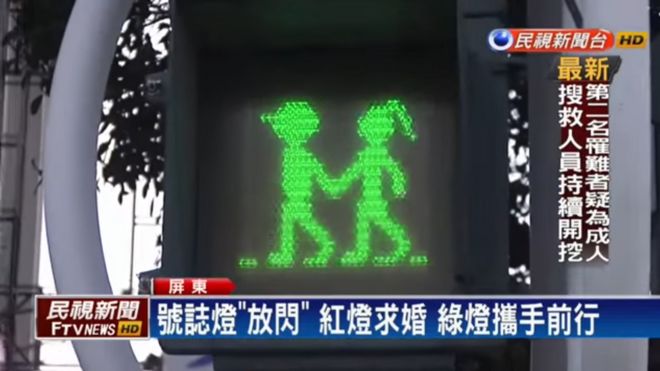 Isn't that wonderful?!
Red is the colour of Chinese New Year ~ and isn't this doorway beautiful?  Saw it in Taichung yesterday.  And so, wishing you all a very Happy Chinese New Year!
Have good celebrations, wherever you are – we're off on a little trip ourselves tomorrow.  See you in a few days ~ but for now I'm off for Chinese New Year's Eve dinner ~ yippee!